Seattle Seahawks quarterback Russell Wilson is considered to be one of the best players in the NFL, but he's also one of the most recognizable.

After being drafted by the Seahawks in 2012, Wilson managed to win a Super Bowl just two years later against the Denver Broncos. The Seahawks actually made the Super Bowl again in 2015, but they ended up losing to the New England Patriots.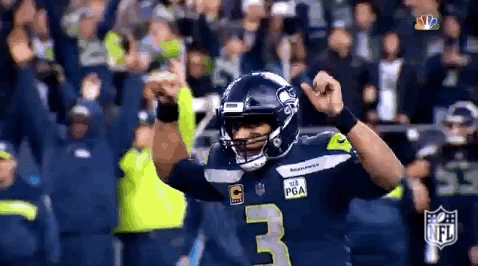 Throughout his time in the NFL, Wilson's continued to make a name for himself and has proven time and time again why he's a future Hall of Famer.

Though Wilson is just 32 years old and could play for another 10 years, there's already so much to know about him. From playing two sports growing up to being named in a rap song, here are six facts you need to know about the football star.
Dual-Threat Athlete
Growing up, Wilson played both football and baseball. In fact, he was drafted by the Baltimore Orioles in 2007, but he made the decision to play football at North Carolina State University instead.

However, three years later, he was drafted by the Colorado Rockies and ended up playing a total of 93 games for the Single-A affiliates. After giving baseball a try, Wilson committed full-time to football and announced he was going to enter the NFL draft.
First Player to Throw 4 Interceptions and the Game-Winning Touchdown
During the 2014 season, Wilson became the first player to ever throw four interceptions and the game-winning touchdown in the same game.
This all happened during the NFC Championship when the Seahawks faced the Green Bay Packers. Despite having a bad game, Wilson willed his team to victory and the Seahawks won 28-22 in overtime. It's not how you start, it's how you finish, right?!
He's Won a Major League Soccer Championship… Sort Of
Wilson and his wife, Ciara, became part owners of the Major League Soccer club Seattle Sounders FC in August 2019. The team ended up winning the MLS Cup that same year, which means Wilson has an MLS Cup to his name.
Featured in a Rap Song
Because Wilson has become so popular over the years, it should come as no surprise that his name's been featured in some music. In fact, rapper Eminem mentions Wilson in his 2013 hit song "The Monster."
"It's payback, Russell Wilson falling way back / In the draft, turn nothing into something, still can make that / Straw into gold chump, I will spin Rumpelstiltskin in a haystack."
Weekly Visits
Wilson is certainly one of the most charitable players in the NFL, as he always takes time to help members of the Seattle community. In fact, during the NFL season, Wilson makes weekly visits to the Seattle Children's Hospital to help cheer up the kids and make their days a little brighter.
Famous Family
As previously mentioned, Wilson is married to singer Ciara. The couple started dating in 2015 and announced their engagement in March 2016. They then tied the knot on July 6, 2016.
While Wilson is the stepfather to Ciara's son, Future Zahir, they also have two children together. They welcomed their daughter, Sienna Princess, in April 2017 and had their son, Win Harrison, in July 2020.