Megan Rapinoe is an American professional women's soccer player who has catapulted to fame in recent years. While she's had quite the career on the soccer field, having won two World Cups and an Olympic gold medal, her work off the field is just as impressive.

Rapinoe, who is openly gay, is a fierce advocate for LGBTQ+ rights as well as for racial equality. The 35-year-old is not afraid to speak out when necessary and continuously uses her platform to make the world a more just place. Simply put, she's fearless on and off the field.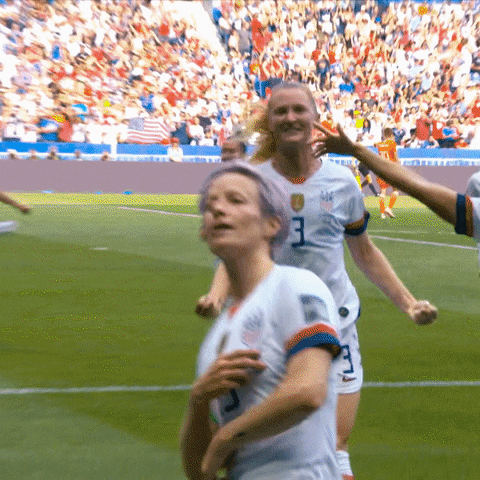 If you didn't know much about Rapinoe before, you're about to learn a lot about her now. From why she started playing soccer to breaking down barriers, here are six fascinating facts you need to know about the soccer star.
Wanted to Play Soccer Because of Her Brother
Rapinoe started playing soccer because of her older brother, Brian. In fact, she started playing left wing because he played left wing. Brian's sadly spent most of his adult life in prison due to drug addiction issues, but he's still Rapinoe's biggest inspiration.

"My brother is special. He has so much to offer. It would be such a shame if he left this world with nothing but prison sentences behind him," she told ESPN.
She Has a Twin!
Megan has a fraternal twin sister named Rachael, who just so happens to be a few minutes older than her. They both grew up playing soccer and even played at the University of Portland together. Both sisters are also gay and came out to each other during their sophomore year of college.
She's Had 3 ACL Injuries
It's hard for athletes to come back after one injury, let alone three. Rapinoe first tore her ACL when she was playing for the University of Portland in 2006. Sadly, she ended up tearing her other ACL the very next year. After making a comeback and staying injury-free for close to a decade, Rapinoe tore her right ACL in 2015.
She's Engaged to Another Super Star Athlete
Rapinoe is currently engaged to Seattle Storm point guard, Sue Bird. The couple first met back in 2016 at a sponsored event for the Rio Olympics. After dating for a couple of years, the pair became the first openly gay couple to appear on the cover of ESPN The Magazine's Body Issue. The couple got engaged while on vacation on October 30, 2020.
First Openly Gay Woman to Appear in Sports Illustrated's Swimsuit Edition
Rapinoe's breaking down barriers left and right, as she was the first openly gay woman to appear in Sports Illustrated's swimsuit edition back in 2019. She and her teammate, Alex Morgan, were both featured on the cover.
Supported Colin Kaepernick
Former NFL quarterback Colin Kaepernick began kneeling during the national anthem to protest the racial injustice in our country. During an international match in September 2016, Rapinoe also decided to deal during the national anthem in solidarity with Kaepernick. Many believe she was the first white professional athlete to kneel during the national anthem.